A brief overview of key ideas emerging from the Collective Impact Summit organized by the Tamarack Institute in Toronto, Canada, from 6-10 Oct 2014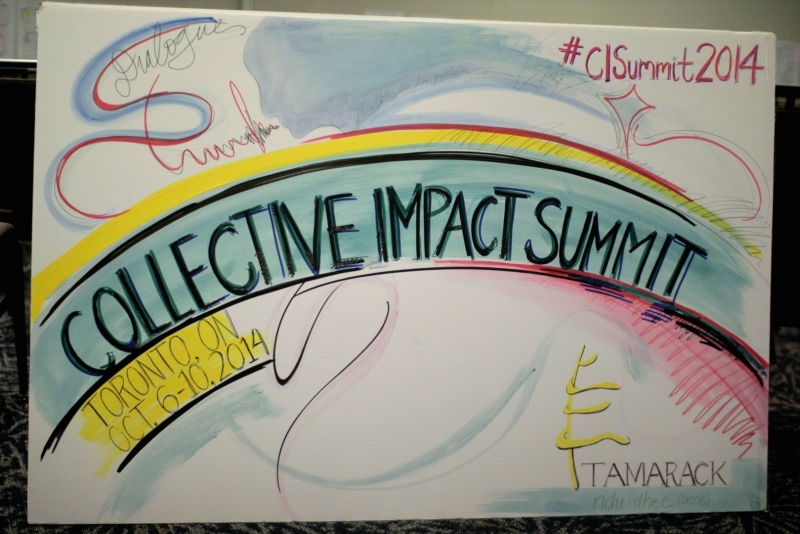 The Collective Impact Summit organized by Tamarack – An Institute for Community Engagement brought together more than 250 participants from Canada, the United States, Australia, New Zealand, Denmark, Israel, and the UK for an intense five day interactive learning opportunity that left everyone brimming with new knowledge, ideas, and contacts.
Featuring a rich menu of key note presentations, breakout workshops, tools and ideas exchanges, case studies, and informal gatherings, the Summit attracted leading thinkers such as Melody Barnes, John Kania, Brenda Zimmerman, and Jay Connor who all shared their latest thinking and tested new concepts on the receptive and engaged audience.
In his opening remarks, Mark Cabaj from Tamarack suggested that three years after the publication of John Kania and Mark Kramer's original article "Collective Impact" in the Stanford Social Innovation Review, we were now on the cusp of creating "CI 3.0":
1.0 Broad and diverse experimenting
2.0 Frame the broad parameters and emerging practices
3.0 Deepen the practices, capacities, and ecology required
Working throughout the week in Learning Labs of 8-10, participants had the unique opportunity to reflect and discuss in considerable depth the content and ideas being presented and to broaden and deepen their own understanding of how to move forward this difficult work for their own initiatives back in their communities. Here are some of these key ideas:
Why Collective Impact and Why Now?
Melody Barnes, former Director of the White House Domestic Policy Council (2009-2012) and now Chair of the Aspen Institute's Forum for Community Solutions, kicked off the event by recounting her experience working for President Obama to address many of America's most complex social problems by analysing the most successful community based approaches and discovering that what these cross-sectoral collaborations had in common were the characteristics of Collective Impact: Shared vision and agenda, effective leadership and governance, alignment of resources toward what works, dedicated staff capacity and appropriate structure, and sufficient funding.
Essential Mindset Shifts are Needed
John Kania is confident that the five conditions of Collective Impact hold and will build the foundation for creating large scale social change, but experience has shown that we need to think differently about who is involved, how people work together, and how progress happens. While these ideas are not counter-intuitive, they are counter-cultural. The first essential mindset shift is to get all of the right eyes on the problem – new eyes bring new vision and if you want to change the system, you need to get the system in the room. It is particularly important to have those directly affected by the problem and those with lived experience in the room. The second mindset shift is to change how we work together: This is adaptive work, not technical work, and solutions that emerge are not known in advance. Instead of focussing on pre-determined solutions, we need to focus on pre-determined rules of interaction and understand that it is the people impacted by the problem that need to be the ones to solve it. The third mindset shift is to understand the difference between program strategies, the traditional approach, and transformation strategies, the Collective Impact approach. Successful CI efforts "bootstrap" successful programs and outcomes are improved through emergence.
Complexity, Resilience, and "Snap Back"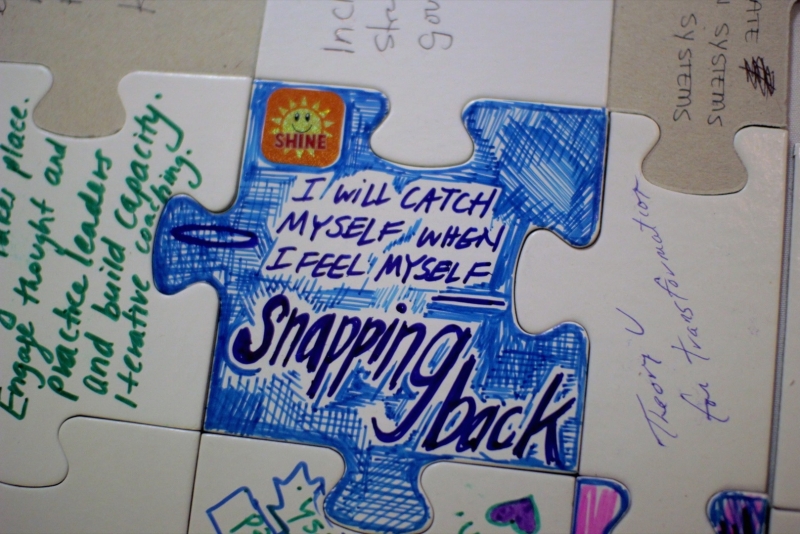 Brenda Zimmerman, a Professor at the Schulich School of Business, is a noted expert on complexity and says that we have to understand that complex situations require a different approach to change, that of influencing behaviour by creating positive "attractors" and focusing on relationships, using minimum specs and simple rules rather than checklists, and engaging participants in ownership of issues rather than trying to sell buy-in to pre-conceived solutions. As in nature, resilience also works differently in complex systems where systems are self -organizing and adaptation and change are more likely to happen through creative destruction.
And finally, we have to resist the tendency to "Snap Back" to previous behaviours and approaches when the going gets tough, recognizing the need to invest the time to forge new relationships and become strategic thinkers rather than strategic planners.
Catalytic Leadership, Aspiration, and the Keystone Outcome
Jay Connor is a successful business executive who has now turned his considerable talents to creating transformational change in challenging communities like Erie County, PA. First, we need to embrace catalytic leadership: In traditional organizations leaders are responsible for the plan; in community collaborative projects catalytic leaders are responsible for outcomes. Then we need to understand the aspiration process: To get from the present to the desired state we have to think differently about structures, processes, and measures. We have to jump over the blame game and focus people on an aspirational goal to build inclusive ownership. The breakthrough comes when you mobilize multiple self-organizing teams to create transformational change. A "Keystone Outcome" refers to a specific outcome that can be found through research to be directly correlated to many other outcomes, so that by focussing on this single measureable outcome we can trigger a cascading series of positive influences to break through. To do this, you need an equal balance between "context experts" – those with lived experience, and "content experts" – those with traditional knowledge, and then leave the agendas and jargon at the door.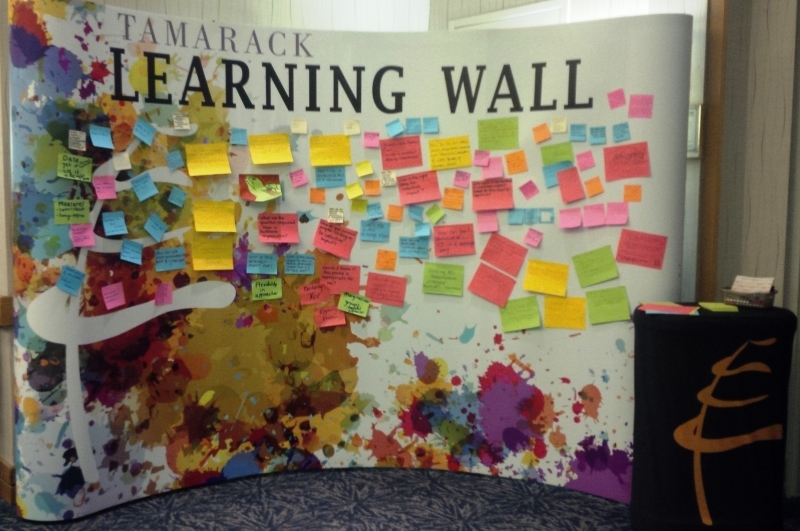 It's all about Leadership and Relationship
What emerged for me as the overriding common theme from the Summit is the message that success or failure will not be based on technical knowledge or expertise, but on the human characteristics of leadership and relationship and our ability to adapt. Using "Community" as a verb and not a noun as Peter Block would say. Go with the flow. And a remarkable flow it was during the week, from the political context with its urgency to move forward now, the technical underpinnings of how we need to change our behaviour and thinking, understanding complexity and the very different dynamics it manifests that can't be addressed by a traditional engineering approach, and the practical catalytic leadership approach needed to actually implement the change process and move towards an aspirational goal. That is why I am starting to use "Relationship" as a verb and not a noun.
Final Reflections
The final day of the Summit was dedicated to sharing and reflection, with everyone gathered in a big circle and taking the time to talk about our experiences and what it meant to us, where we wanted to take it.
What is the Future of Collective Impact? This was my own reflection on this week's theme:
I feel like there is a lot of confidence in the room, about new knowledge, new connections, new ideas. The interesting thing is that I don't think anybody this week said that CI is easy, or certain, or fully evolved. So the fact that most of us seem to be going away with a positive feeling and a new level of confidence in the future for our own work and understanding is pretty impressive.
What were your views from the Summit? If you attended the conference this month in Toronto, please share with us your thoughts and experiences in the comments.