This post was originally published in the Tamarack Institute's Communities Collaborating blog on January 30, 2015.
This week was bookended with facilitated discussions in Alaska and Collingwood on the topics of Collective Impact and community transformation.  While, both conversations were productive, engaging and challenging, a couple of things stuck out for me.
In Tamarack's presentations about collective impact, we begin with three big ideas that frame this approach to community change.  One of the big ideas is about collaboration.  It strikes me that collaboration is one of those words that we all know, but interpret slightly differently given where we are on the collaboration spectrum.  For some of us, joining a collaboration means that we can compete (for resources, for people, for attention).  For others, we join to co-exist or be seen.  As we move across the spectrum, we collaborate for the purpose of communication or exchanging ideas.
Collective impact, sits at a part of the collaboration spectrum where we, individuals and organizations, begin to more intentionally work together in cooperative, collaborative or integrative ways.  This intentional action requires us to build more trusting relationships. I would not cooperate with you, if I did not know you and trust you.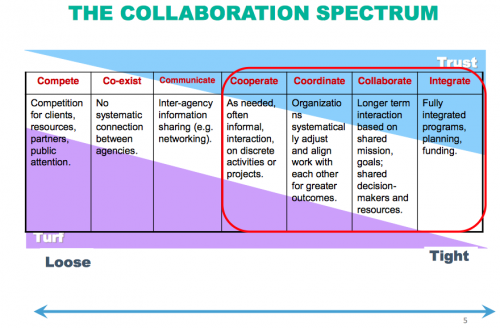 But what is our experience of collaboration.  We feel the pressure to perform.  Get right down to it.  We don't check in with each other, talk about expectations and constraints.  In fact, we do everything that is counterintuitive to trust building, we busily become turf builders.
We won't be able to achieve collective impact when turf reigns supreme.  In both conversations this week, I heard participants talk deeply about the issues of turf and trust.  We hold ourselves and our efforts back from achieving their full potential when we go too fast and focus too quickly on the goal.  Spending time building relationships, building common ground, building trust may take longer at the beginning of collective efforts, but ultimately gets us to our results quicker.  Sometimes you just need to go slow, build trust and then magically, you can go fast.