It's been an unforgettable year.
Through these challenging times, we are so grateful to you and that you are a part of the Forum community. Thank you for all that you do and all that you carry with you. Love and Solidarity. Humor and Memory. Determination and Resilience. Imagination and Courage. Hope and Faith. You are the bearer of these gifts that support our communities as we work together to reach that better future for everyone.
You inspire us every day. And we are in deep gratitude to you. Thank you for being in community with us. There are a lot of unknowns for next year, and so much to dream about, hope for, and strive towards. We look forward to the days that will come, and for the chance to work with you.
Gratefully yours, and may you be safe and well in the New Year.
The Collective Impact Forum Team
TOP RESOURCES OF 2020
TOP READ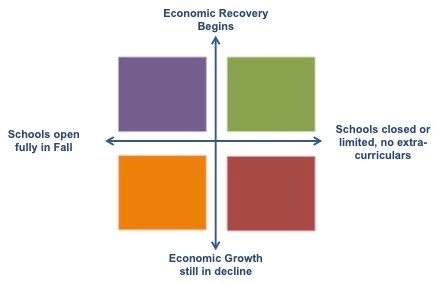 Scenario Thinking for an Unpredictable Year
How does one plan for an uncertain future with multiple health, social, and economic factors at play? Scenario Thinking might offer a path. Typically, scenario thinking is used when thinking out 5-10 years or more. But in our current disrupted environment, none of us can even see six months ahead so the same tools might be useful in assessing possible futures.
This tool can help you develop plausible future scenarios for the next year and test how your strategy could adapt to each.
TOP LISTENS
This year marked the launch of the Collective Impact Forum's new podcast, and thank you to everyone who is subscribing and recommending it. With over 13,000 downloads so far, we're excited to keep sharing resources and stories to support your work.
For our most-listened-to episodes of 2020, Forum members have been embracing hard questions and challenging topics.
Holding Hard Conversations and Moving Beyond Neutrality
How do you hold hard conversations when everyone is virtual?
How do you form a Common Agenda?
What should you think about when forming a common agenda, and what happens when COVID changes your course?
How can you support long-term goals while also meeting immediate emergency needs?
TOP WATCH
Evaluating Systems Change Efforts: Where to Start
Where does one start when looking at your own systems change work and how to learn from its design and implementation? What do you need to think about when gauging your progress and the initiative's intended effects, influence, and impact?
FSG's Hallie Preskill and Joelle Cook delve into how evaluating system change is different from evaluating programs, and talk about some of the core evaluation principles needed when advancing systems change work.
LOOKING AHEAD

2021 Collective Impact Action Summit
Join us this April 27-29, 2021 as backbone leaders, practitioners, funders, partners, and more gather virtually from around the world for the Collective Impact Action Summit, our biggest learning event of the year.
Spanning three days and featuring over 25 virtual sessions, the 2021 Action Summit will elevate cutting-edge thinking and lessons learned on how cross-sector collaboration can help address the issues we are facing, including plenary talks from Rashad Robinson (Color of Change), Nayantara Sen (Race Forward), and Sonya Renee Taylor (activist, poet, and author of The Body is Not an Apology.)
Interested in seeing what's happening at this year's virtual Action Summit? Check out the 2021 Agenda.
FORUM STAFF HOLIDAY: DEC 21 – JAN. 3
The Forum team will be recharging over the New Year from December 21 through January 3. The Forum site will still be active and the resource library is open for downloading and viewing articles, tools, videos, webinars, and podcasts, but those of us behind the curtain will be on break. This means the moderation of Forum posts will be delayed, as well as hearing back from staff members regarding email queries. We look forward to responding after January 3.
We wish you a happy, healthy, and restful New Year!