As we close out the year, we're excited to share with you 2018's most popular resources from the Collective Impact Forum. Before we get to that, we want to offer first our gratitude to you. The Collective Impact Forum is a global community (over 25,000 strong and counting), and we want to recognize that the very heart of social change are those who are pushing the work forward every day—with determination, faith, humor, curiosity, resilience, solidarity, hope, and love.
Thank you for all that you do.
We look forward to working with you in 2019.
Gratefully Yours,
The Collective Impact Forum Team
TOP RESOURCES OF 2018
From the Blog
The Forum's most read blog post is about a topic that most of us may not like thinking about—meetings. This leaves us in a pickle since collective impact is all about trust, relationships, and the meetings where trust and relationships are formed.
Thankfully, Forum senior advisor Paul Schmitz takes what he's learned from holding many many meetings and shares concrete strategies and insights that will help you design your meeting to energize attendees, encourage accountability, and help get you and your group to your goals.
From the Resource Library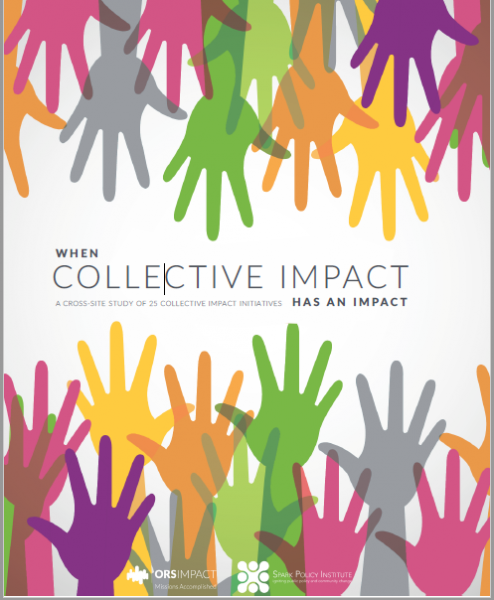 When Collective Impact has an Impact: A Cross-Site Study of 25 Collective Impact Initiatives
The Forum's "must read" resource for the year was the research study "When Collective Impact Has an Impact: A Cross-Site Study of 25 Collective Impact Initiatives," conducted by a research team from the organizations ORS Impact and the Spark Policy Institute.
This new study, more than a year in the making, looks at the question of "To what extent and under what conditions does the collective impact approach contribute to systems and population changes?" To explore these questions, the research team studied 25 collective impact sites and generated a rich set of findings for the field.
Read the full report and watch a webinar where the report's authors dive into the findings.
Most Watched Video
Beyond Seats at the Table: Equity, Inclusion, and Collective Impact
In this candid and thought-provoking keynote talk from the 2018 Collective Impact Convening, Vu Le (Rainier Valley Corps and the nonprofitAF blog) discusses how collective impact initiatives, when their efforts are not grounded in equity, can inadvertently perpetuate injustice and inequality in their communities. But how can that outcome be avoided? What steps can one take to change course towards equity, even while mid-stream?
Watch Vu's talk or read a transcript of his remarks as he delves into these questions and more.
2018 Virtual Coffee Series
This year we kicked off a new series of "virtual coffee" discussions where we heard from practitioners in the field about their experiences and what they have learned through their own collective impact work.
Building Leadership Capacity for Collective Impact
Advancing Equity in Collective Impact
Using Data and Shared Measurement in Collective Impact
How to Sustain Momentum over the Long-term in Collective Impact
Aligning Partners in Collective Impact
Prioritizing Feedback Loops Lessons from Funders and Grantee Partners
Looking Ahead to 2019
Join us this May 14-16 in Chicago for the 2019 Collective Impact Convening, the Forum's largest field-wide event of the year, featuring more than 40 sessions, including case studies, how-to sessions, tool sessions, and short talks.
2019 plenary speakers include Liz Dozier (Chicago Beyond), Efrain Gutierrez (Obama Foundation), Michael McAfee (PolicyLink), Michelle Morales (Mikva Challenge), john a. powell (UC Berkeley Haas Institute for a Fair and Inclusive Society), Rye Young (Third Wave Fund), and Tiffany Yu (Diversability).
We hope you will join us next year in Chicago!
Apply for a Registration Scholarship (Applications due by January 7, 2019)