by Fay Hanleybrown, FSG, Steve Patrick, Aspen Institute Forum for Community Solutions, Sheri Brady, Aspen Institute Forum for Community Solutions, and Jennifer Splansky Juster, Collective Impact Forum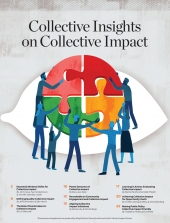 Today, we are delighted to share a compilation of nine new articles about collective impact with you. Sponsored and curated by the Collective Impact Forum, Collective Insights for Collective Impact, which appears in Stanford Social Innovation Review's fall issue, shares cutting-edge thinking from 22 practitioners, funders, community organizers, and thought-leaders.
Through the diverse voices of the authors, you can dive deeper into important collective impact topics such as public policy, evaluation, sources of power, and community engagement.
As the practice of collective impact grows across the field, we look forward to hearing from you as we all continue to build our knowledge on what leads to impact in our communities. We encourage you to share these new pieces with your colleagues, post responses to this and upcoming blogs on specific articles, and to join webinars on these topics that we will hold over the coming months.  We look forward to hearing what you think of these articles, and what you are learning through your work.
Article Topics and Authors