Do you need some ideas for facilitating an ice-breaker among community leaders who have not previously met before? Have you hit a roadblock and need a fresh way to facilitate a discussion and find common ground among your group?
Are you looking for tools or templates to keep your Steering Committee updated on working groups' progress?
Do you need some inspiration for how another community has framed their collective impact strategies for pursuing a common agenda?
If one any of these questions apply to you and/or your collective impact partners, there are several new resources available in the Collective Impact Forum's resource library that will be of interest: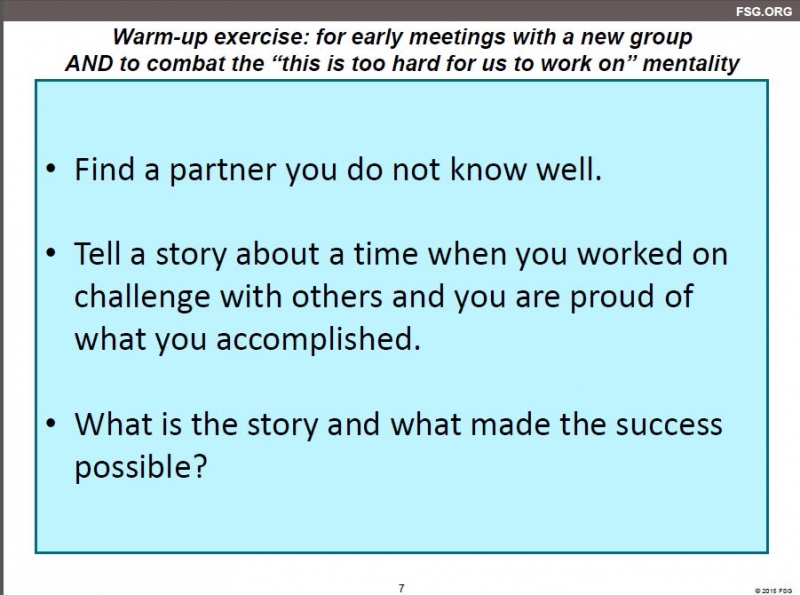 Compendium of Warm-Up Exercises
These slides are a compendium of exercises used with both working groups and steering committees for a collective impact effort focused on childhood obesity. While these slides are specific to childhood obesity, they can easily be adapted for any social issue.
The existing "Working Groups Toolkit" on the Collective Impact Forum resource page has been updated this month to include two new tools:
Working Group Meeting Planning and Execution Steps: to be used by action planning working groups to guide meeting execution and identify roles/responsibilities. This template is meant to give a generic outline (not a rigid guide) of the steps for planning and executing working group meetings, including interaction with a Steering Committee. See pages 10-11 of the "Working Groups Toolkit" file.
Working Group Meeting Agenda and Notes Template: to be used by action planning working groups for developing agendas, summarizing discussions, and assigning tasks after meetings. See pages 12-13 of the "Working Groups Toolkit" file.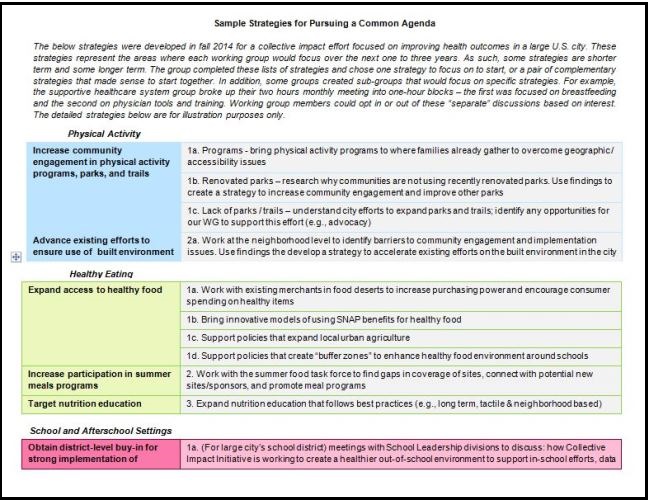 Sample Strategies for Pursuing a Common Agenda
These strategies were developed for a collective impact effort focused on improving health outcomes in a large U.S. city. These strategies (included for illustrative purposes only) represent the areas where each working group would focus over the next one to three years.
Feel free to adapt these tools and resources to your community's needs and local context. If you have any feedback or questions about these tools, don't hesitate to post your question or comments below.