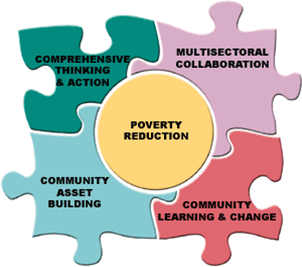 Beginning in 2002, collective impact roundtables in 13 cities across Canada began a consolidated effort to reduce poverty for low income citizens. This movement of cities, called Vibrant Communities Canada has been working diligently by bringing together business, government, voluntary sector and citizens with the lived experience of poverty to develop strategies and influence policies which move the needle.
When Vibrant Communities formed in 2002, collective impact, as a framework for community change was not even spoken about. The local leaders in each of the cities agreed to adopt five core principles which would drive their work forward.
These principles became known as the "puzzle pieces," but in fact align quite nicely with the core conditions of collective impact: common agenda, shared measurement, mutually reinforcing activities, continuous communications and backbone infrastructure. Each of the initial 13 cities adopted this design.
Poverty Reduction: Each city was encouraged to complete a poverty matrix or demographic profile of who was living in poverty in city and the depth of that experience. The cities were also encouraged to complete an environmental scan which documented the extent to which the city had sufficient capacity to deal with the issue of poverty.
Multi-Sector Collaboration: City partners were encouraged to bring diverse voices to the table including business, government, voluntary sector and citizens with the lived experience of poverty.
Comprehensive Thinking and Action: Rather than build a new program or service, the cities and their leadership roundtables were asked to consider the root causes of poverty and develop strategies that began to address these root causes. They were asked to consider policy and systems change.
Community Asset Building: Recognizing that a leadership roundtable could not tackle a challenging issue like poverty on their own, cities were encouraged to leverage the existing assets of the community. This became a mutually reinforcing activities strategy where local organizations and partners were invited to contribute to the common agenda of reducing poverty.
Community Learning and Change: Documenting change as it was occurring and spending time evaluating and reflecting on this change was a key ingredient for the cities individually and also at the national level as the cities worked together to learn from one another.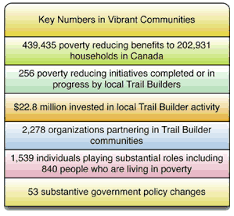 Between 2002 and 2012, these 13 cities were able to achieve significant collective impact and results.  In 2012, a new conversation began in Canada about scaling up this collective effort.
It was clear that there was momentum and opportunity. During the first 10 years, 8 provincial and 3 territorial governments had adopted poverty reduction strategies and many cities were instrumental in driving forward increased access to affordable transportation, housing subsidies, and were reviewing income security.
In 2012, Vibrant Communities Canada – Cities Reducing Poverty was launched with the ambitious goals of connecting 100 cities with poverty reduction strategies, aligning all levels of government and reducing poverty for 1 million Canadians by 2020.
For those who wish to join this ongoing dialogue, on May 6-8, 2015, Vibrant Communities Canada will be hosting the first ever National Poverty Summit in Ottawa, Ontario Canada. This will be an unprecedented opportunity for individuals moving collective impact poverty reduction efforts forward to learn from each other and to continue to work toward scaling change. We invite you to learn more about the National Poverty Reduction Summit by visiting: http://events.tamarackcommunity.org/povertyreductionsummit.