By Meg Long and Clare Nolan
Funders who have ambitious goals to change large systems often create partnerships with intermediaries and evaluators to help realize their visions. But what does it take to effectively weave these partners together and position them to achieve their goals? While these three-way partnerships are common in the social sector, our initial scan of the literature mostly revealed substantive resources on two-way relationships—how funders can partner with intermediaries, and how they can partner with evaluators. However, very few resources spoke to funder partnerships involving intermediaries and evaluators.
Exploring cases of varyingly-configured funder-intermediary-evaluator partnerships can illuminate issues that may arise, and can also help determine strategies for managing those tensions. Though the three case examples covered here differ in terms of content, geography, investment, time-span, and partner roles, all three partnerships encountered—and successfully navigated—relationship tensions.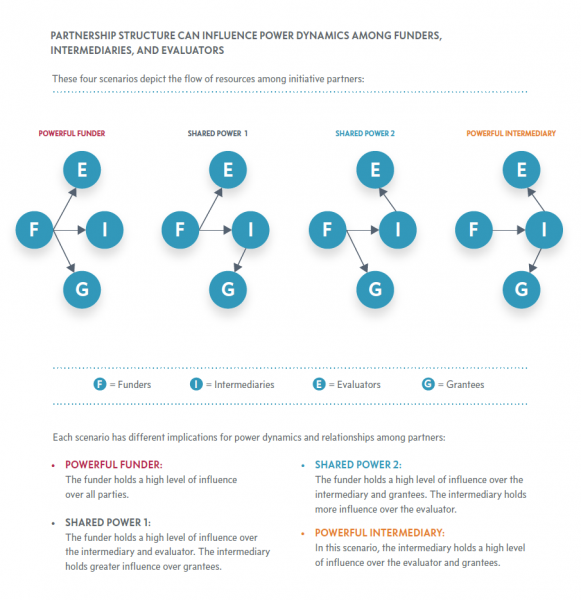 Linked Learning Regional Hubs of Excellence
In 2015, The James Irvine Foundation engaged Jobs for the Future (JFF) as an intermediary to help design and manage a cross-sector systems change initiative which aimed to increase the quality and scale of Linked Learning, an evidence-based approach to college and career readiness in California. Because the foundation was testing a new strategy—translating an educational model into a broader regional systems approach—they saw value in commissioning a collaborative evaluation. Considering pre-existing relationships and the Foundation's appreciation of their expertise in developmental evaluation and systems change initiatives, Irvine commissioned Equal Measure, Engage R+D, and Harder+Company Community Research for the evaluation.
Having identified and funded the intermediary and evaluation teams directly, Irvine played a major role in managing partner relationships and setting the tone for sharing learnings and insights across the Linked Learning initiative. As one JFF staff member noted, "The funder set just the right tone to create more space for this kind of honest trust-building… It accelerated things." And according to Irvine, "Having an evaluation partner in charge of external observations and then curating and facilitating that reflection process has been so powerful," because it built the capacity of the intermediary and the funder to engage in authentic assessments of the partnership structure in-person and digitally.
Some tensions between the partners took time to overcome. For example, JFF staff were initially somewhat unclear about the role of the evaluation, which prompted deeper conversations to clarify partner roles and norms. In addition, reflection sessions became critical for building knowledge, trust, and the capacity of the partners. This time enabled the triad of partners to leverage the knowledge and expertise of each organization to strengthen learning overall.
Consumer Voices for Coverage
In 2007, the Robert Wood Johnson Foundation launched Consumer Voices for Coverage (CVC)—a state-level advocacy initiative for health reform—with Community Catalyst as the intermediary. Following the passage of the Affordable Care Act (ACA), the partnership's reform efforts moved from state to federal action. RWJF gave Community Catalyst leeway in oversight and subcontracting—enabling them to serve  as both the initial touch point for grantees and determine when it was necessary to obtain guidance from the funder. In the second phase of the initiative, RWJF sought to build the evaluation capacity of grantees and the intermediary by engaging Spark Policy Institute to provide evaluation coaching services. These services included "Evaluation 101" webinars, offering evaluation coaching to CVC grantees, and gathering feedback about the technical assistance that Community Catalyst provided. The purpose of this work was to help Community Catalyst and its grantees harness evaluation as a driver of effective advocacy.
The greatest challenge the partnership faced was generating grantee buy-in for evaluation capacity building. A number of grantees opted not to participate in the process. While some grantees cited capacity issues, others noted negative past experiences that dissuaded them from participating. However, grantees that engaged with Spark came to see the benefit of capacity building. As Community Catalyst put it, "To do that work and to have grantees define their own evaluation questions was really important and different."
Opportunity Youth Incentive Fund
The Opportunity Youth Incentive Fund (now known as the Opportunity Youth Forum) is a complex social change effort involving 34 regional and national funders designed to address unemployment and educational attainment for youth between 16 and 24 who are not currently in school or in the workforce. The partnership structure was derived from the multiple roles played by the Aspen Institute's Forum for Community Solutions (AIFCS), which manages the funder collaborative. (The Aspen Forum for Community Solutions co-convenes the Collective Impact Forum with FSG.) These roles include implementation and providing national-scale voice for the work of the initiative. In managing the funders and partners AIFCS also serves as fiscal intermediary, developing a learning framework, monitoring collective impact, and building national momentum around the Opportunity Youth agenda. Jobs for the Future serves as implementation intermediary, while Equal Measure provides evaluation and design of thought leadership approaches for the partnership.
Though partners have varied perspectives and diverse experiences, and AIFCS coordinates their needs, roles, and communication, the initiative's complex structure proves challenging at times. One challenge is that funders expect to see demonstrations of impact that may not always align with the pace of the initiative's work and the scope of the evaluation. At the same time, a shared culture of learning unites the partners. Setting learning expectations and norms (such as being honest and learning from experience) upfront was critical. Particularly with grantees, promoting a culture of learning has encouraged risk-taking and learning from risks. Having many partners has accelerated AIFCS' responsiveness to grantees' learning and capacity building needs.
These case examples are but a small part of our recent report, Weaving Successful Partnerships: When Funders, Evaluators, and Intermediaries Work Together. In the report, we share five tensions that typically arise in funder-intermediary-evaluator partnerships, along with learning notes based on analysis of the various challenges that arise in these partnership triads.
Meg Long is president of Equal Measure; Clare Nolan is co-founder of Engage R+D