This interview was first published in FSG's blog.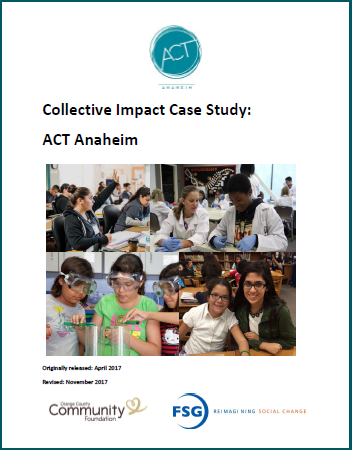 ACT Anaheim, an initiative designed to address the needs of at-risk youth and families with a focus on 13-18 year-olds, was formed in 2013 by The Disneyland Resort, Angels Baseball, and the Anaheim Ducks National Hockey team, with the Orange County Community Foundation (OCCF) serving as managing partner. It is a collaborative response to the needs of youth in the area, including poverty, academic challenges, and limited opportunities for meaningful work and constructive engagement in their community.
As the initiative enters its 4th year, FSG contributed to the evaluation of the initiative by facilitating conversations both with grantees and funders of the initiative about its impact to date and next steps.
FSG's Philippe Sion connected with Orange County Community Foundation President Shelley Hoss to reflect on the initiative's outcomes and future plans.
Tell us about the Orange County community in 2014. What were the challenges that you faced?
There were increasing social tensions and conflict building up in Anaheim in 2012. As Orange County's most populous city and the 10th largest city in California, Anaheim is central to the health and vitality of the entire county. Yet it was hard to respond accurately to the increasing challenges facing Anaheim because there had not been a thorough needs assessment of the Anaheim community for more than a decade.
Pressed by the mayor of Anaheim for leadership from the corporate sector, Disneyland Resort decided to fund a study on the challenges faced by Anaheim's youth. It highlighted a significantly higher risk for poverty, gang involvement, and school dropout for the youth of West Anaheim. The study revealed such a compelling case for investment that Disneyland committed $1 million in funding over 3 years, and invited the Angels and Ducks to join them. With these founding partners in place, OCCF was approached to take the helm as managing partner of the Accelerate Change Together (ACT) Anaheim initiative, and we brought an even wider circle of philanthropic support to the table.
Did you know you wanted to use a collective impact approach?
We were familiar with the model and built the initiative loosely in the spirit of collective impact, with common goals, shared measurement systems, and the Foundation effectively acting as the backbone leader.
We intentionally invited a targeted group of nonprofit partners through our initial RFP process, including several organizations that were providing stellar youth services but were not present in Anaheim at the time, with the intention to offer a small number of larger grants. We started convening grantees from the very beginning share information and build relationships. Importantly, OCCF had the opportunity to provide evaluation support through a partnership with the Children and Families Commission of Orange County, so we worked with the grantees to articulate a set of measurable goals and objectives from the beginning.
We started by conducting a consensus building process with the inaugural 10 grantees to formalize our goals, objectives, and logic model. We didn't want to tell the grantees what the objectives or goals were. We went through an exercise of mapping the different programs, services, and objectives, and then consolidated this into overarching goals for ACT.
It was an iterative process for the first year to articulate the grantees' goals and translate them into a logic model. It was through this process that we came to understand the scope of the work ahead of us, and the need to recast our work in the more rigorous frame of collective impact.
The initiative had a lot of committed champions from the private sector, including Disneyland Resort, the Anaheim Ducks, and Angels Baseball. How did you engage these groups?
These partners joined together in a unique corporate philanthropy partnership to invest in Anaheim and help bridge the gap in services for youth in response to the assessment findings. They approached OCCF to serve as the managing partner for this initiative and this relationship provided the opportunity for the corporate funders to set the initial direction, while OCCF provided the infrastructure and reporting and evaluation functions, as well as content knowledge to help shape the initiative as it developed.
OCCF also provided the added value of being able to bring other funding partners to the table. With the significant investment of these corporate funders—$1M each year over 3 years—we were able to engage 15 additional funders (including ourselves) to provide $5M in funding over this period. As OCCF's president, I devoted a significant portion of my time on the ACT Initiative during the first year, which sent strong signals to our funders and grantees and helped to build confidence among all our partners.
For both our funders and grantees, our approach was to engage our partners in a new mode of operation. For our funding partners, it meant shared resources and joint decision-making. From the beginning, we brought the funders together twice a year to review grant awards, keep them informed of our progress, and engage actively with them, including connecting them with grantees. As a result, we have had a highly-functioning cohort of grantees which meet bi-monthly to share information and build relationships, as well as a fully engaged funder group.
What are the outcomes for the youth of Anaheim that you are most proud of?
To date, ACT Anaheim has served almost 12,000 youth plus an additional 3,200 parents and caregivers, and 1,000 other adults who serve as mentors. The majority of youth targeted by our programs follows the needs assessment—56 percent of youth served are 13-19 year olds and are being provided with the most intensive services. At the same time, 44 percent of youth served are 12 years and younger, as these students are often engaged in middle-school programs and other prevention programs.
Three years since the launch of the Initiative is too early to see population-level data changes. We did however incorporate the use of the Youth Resilience Questionnaire, a validated and reliable survey tool that is implemented at the county level. Youth resilience, which is defined as youths' ability to overcome any issues they face by leveraging internal and external assets, is measured by assessing areas of strength and areas for change in 5 areas: goal orientation, personal competence, use of resources, friends, and family. There was a significant increase in Youth Resiliency scores across all ACT Anaheim programs, from the beginning of ACT services to 3 years later. We are proud to say that we have increased the resilience of youth, which is a key indicator of their future success.
In addition to the results, we have also built the evaluation, professional development, and capacity of each organization we work with. We have strengthened the ties between organizations serving youth in Anaheim, developed partnerships between program delivery organizations, and attracted more organizations (and funding) to serve Anaheim's youth.
What are ACT's upcoming priorities?
Number one is sustainability. For any of this work to have future sustainability and impact, it has to continue to be anchored in Anaheim and it has to be more integrated between the public and private sectors. We are looking at models to embed the leadership of ACT in the Anaheim community and empower the ACT nonprofit partners to have a greater role in leadership of the initiative, including identifying and building a sustainable community-based backbone organization. It will require the group to develop an even more collaborative approach, even closer to the tenets of collective impact.
We also want to expand the group of stakeholders to include representatives from the city, police department, libraries, school districts, and others to bring a greater diversity of voices in decision-making for the direction of the initiative.
Last but not least, we want to continue our work serving youth, and seeing even greater resilience and transformation along the mission and programmatic goals we have set for ourselves. This includes college and career readiness, positive engagement in the community, safe and healthy lifestyles, and positive relationships with parents and other adults. At the structural level, we want to see that the community and its institutions are positively engaged with youth, and establishing a continuum of youth services in Anaheim from school age to adulthood.
We also want this effort to be helpful to others who are conducting similar efforts or are looking for ways to positively affect the lives of youth in their community. As much as we focus on the broad definition of growth of our youth, we also want this to help other funders and grantee collaboratives, so I encourage readers to connect with us to learn more.