This essay was originally posted to StriveTogether's Striving for Change blog on July 16, 2014.
In the Blind Melon 90s alternative rock video, "No Rain," a young tap-dancing girl in a bee suit wanders throughout town looking for someone to appreciate her talents after being laughed off stage. At the end of the video, the lonely girl discovers a field full of other people dancing in bee suits – she finally found like-minded people who shared her passion!
At least week's StriveTogether Expert Convening in Salt Lake City, Nate Waas Shull of the All Hands Raised partnership in Multnomah County, Oregon, said he felt "like the girl in the bee suit" from that video. By being in a room with representatives from other expert cradle to career communities, he knew he had found like-minded people who shared the same passion: achieving better outcomes for kids by building civic infrastructure.
"We have a field," Nate said. "There is a field emerging for this work!"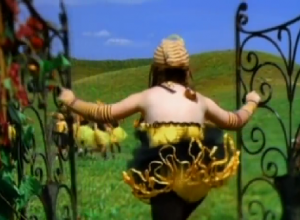 While Nate's reflection gave us all a big laugh, it keyed in on a larger theme for the Expert Convening: We have a growing body of knowledge for how to actually achieve the eloquent and powerful concept now known as collective impact that is indeed very different than collaboration (Read more: The Difference between Collaboration and Collective Impact). And more importantly, we need to create opportunities for the practitioners in the field to come together with their peers – just like the girl in the bee suit – to enjoy the company of like-minded individuals, as well as to capture and codify knowledge as much as possible. This is what it will take to ensure we don't revert to the status quo: tinkering around the edges rather than changing what we do every day to get better results.
The main goal of this particular gathering was to dig into the adaptive and technical processes involved with planning and implementing action that improves academic outcomes on the ground. This is a key area where we see partnerships getting stuck as they work their way through the Theory of Action. During intensive working sessions, attendees mapped out answers to the following key questions:
What types of actions are communities executing to improve outcomes at scale?
Who plans and implements action that achieves real impact?
How do community partnerships use data for continuous improvement?
How do they ensure accountability for action over time?
While the output of these discussions will help shape tools that will benefit many communities across the Cradle to Career Network, observing these six partnerships working together highlighted the potential for broader impact. We are in the midst of a powerful movement connecting communities across our country on a common mission and methodology. Each community may have its own goals and actions, but the Network is focused on one thing – engaging communities in new and innovative ways to support the success of every child, every step of the way.
"Think about the magnitude of what we are really doing," Todd Williams, of the Commit! Partnership in Dallas County, Texas, said during the convening. "You get a sense of how powerful this can be."
The shared knowledge and commitment to quality collective impact across the entire network is core to this movement. We commit to making sure we do everything we can to help communities doing this work in a deep and meaningful way to connect and learn from each other. I hope you will join us in this movement to increase our impact together!
Read reflections and commentary shared on Twitter during the Expert Convening at https://storify.com/StriveTogether/action-that-moves-outcomes.