As we close out this series on community engagement, below are some successful relational organizing examples from initiatives that embody many of the elements of collective impact.
Chicago's Southwest Organizing Project (SWOP) combatting home foreclosures – Chicago IL
SWOP is a community organization located in the heart of Chicago's southwest side. This community has suffered high volumes of home foreclosures wrought by predatory lenders using unscrupulous practices to vend sub-prime loans. While the recent recession caused the sub-prime lenders to evaporate through bankruptcy the havoc they caused lingers on. As backbone, SWOP used relational organizing methods to work with residents, churches, government agencies, financial counseling centers, and lenders to create a significant collective impact on this problem.
By generating and utilizing trust relationships among local residents foreclosure victims, who are often not eager to have their situation become public knowledge, came forward so that assistance could be tendered. The outstanding results caused SWOP to become the recipient of MacArthur Foundation 2013 Award for Creative and Effective Institutions.
From the MacArthur Foundation Award Press Release:
"By bringing together local leaders across racial, ethnic, and religious lines and turning fearful residents into agents of change, Southwest Organizing Project is empowering entire communities to create safe, hopeful neighborhoods.
Where boarded-up houses, foreclosures, and illegal guns are common, Southwest Organizing Project has pioneered ways to develop strong, connected communities that can transform neighborhoods. A coalition of faith congregations, businesses, and schools, the organization has created unity among diverse people to counteract the negative forces once seen as out of their control.
Southwest Organizing Project was an early leader in fighting predatory lending practices and the inevitable foreclosures that were harming families and turning neighborhoods into tracts of boarded-up buildings. Organizers built teams of resident leaders who visited public places and knocked on thousands of doors, reaching nearly every at-risk borrower in the area with information about foreclosure prevention and assistance. As a result of this saturation effort, Southwest Organizing Project prevented nearly 500 foreclosures and initiated an innovative plan to bring vacant properties back on the market. The work earned the group a meeting with the U.S. Department of the Treasury and an invitation from the U.S. Senate to speak about foreclosure prevention and mitigation strategies to be used across the country."
IMAN Medical Clinic – Chicago, IL
As a prelude to working on a Collective Vision and Common Agenda (known locally as a Quality of Life Plan) the non-profit backbone Greater Southwest Development Corporation (GSDC) set out to undertake 100+ one-to-one relational meetings with local resident leaders and leaders from local agencies organizations and institutions. A local constituency, Muslims, was absent from the process. GSDC made a concerted effort to reach local Muslim leaders because, they believed, it was the right thing to do. They had no idea what a fantastic collective impact result they would achieve.
Sharene Fakhrah, MD expressed a passion for treating the medically underserved and an ability to do so. Her faith instructs generosity (without recognition) toward the poor. Dr. Fakhrah, organize a cohort of Muslim doctors to offer free medical services to the uninsured and underinsured which became the Iman Medical Clinic. Their clinic operated out of a donated real estate office and, at first, was open once weekly. The doctors who organized this nascent medical services envisioned having a well-equipped permanent clinic staffed offering a full complement of free medical services.
The doctors were encouraged to bring their vision into the collective impact visioning process. Their vision was immediately embraced by the larger collective community based organizations, (Christian) churches, a Synagogue, businesses and business associations. Greater Southwest Development Corporation purchased a shuttered bank branch and through renovation re-purposed the structure as a modern medical clinic. The Iman doctors have generated operating support and the donation of medical equipment from successful Muslim medical practices. The clinic is open daily and provides long term primary care for those who had no access to medical services before it existed. The Iman clinic has remained true to the relationship building that helped to establish it. A few years ago (8 years before President Obama's Affordable Health Care Act) it became evident that medically uninsured Chicago Public School students could not obtain the physical examination necessary to play school sponsored sports. Iman doctors now provide this service.
From the Iman clinic website.
"IMAN believes that adequate and quality health care is a basic human right. IMAN's Health Clinic manifests this belief with its mission of providing high-quality, comprehensive, accessible and culturally-competent health care to its diverse patient population. IMAN's Health Clinic has become a leading provider in the community that delivers no-cost primary health care and support services to the largely uninsured population of Chicago's Southwest Side. Operating out of IMAN's new Health Clinic and Administrative Center, the clinic is staffed by a full-time Medical Director, Health Clinic Administrator, Lab Technician and over 25 volunteer physicians, nurses and rotating medical students who give their time and heart to the clinic. IMAN Health Clinic family physicians are committed to continuous, comprehensive, compassionate, and personal care of their adult patients through every life stage. We treat both acute and long-term health conditions with a focus on prevention as the best foundation to keep your family healthy and active. All of our services are free of cost. Click here for details on IMAN's Behavioral Health Counseling Services."
Springfield, Lower East End, Epic Neighborhood – Jacksonville, FL
In 2012 The Jacksonville office of the Local Initiatives Support Corporation (LISC) began working with local residents and agencies in the combined Jacksonville neighborhoods of Springfield and the Lower East End. They began with relational organizing which engaged local leaders to create a Collective Common Community Revitalization Vision for their older inner-city neighborhoods. They knew that their communities were complex environments and a comprehensive set of initiatives would be needed to deal with public safety problems, returning ex-offenders, business district decline, job losses, lack of affordable housing, and the seemingly insurmountable environmental contamination that was thwarting the development of local land in a way that was create community benefits.
As they conducted relational meetings they came across Wynetta Wright of the Eastside Environmental Council. Wynetta spoke of the work to remediate Jacksonville's polluted "Emerald Necklace" a series of waterways leading to the St. John's river that provided water transport for adjacent industries during the early part of the last century. Local leaders quickly realized just how strategic this work could be with its potential for outcomes ranging from health, to recreation and, economic development outcomes offering jobs and entrepreneurial opportunities.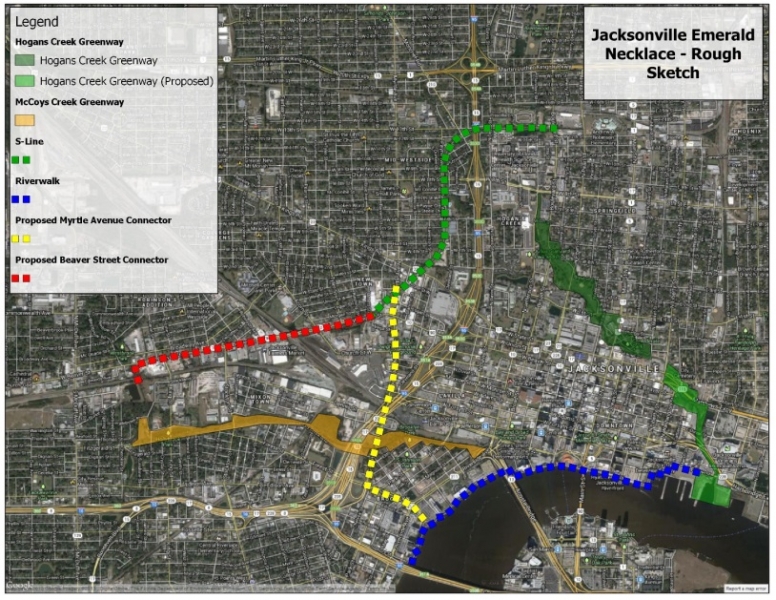 Figure 1: Jacksonville Emerald Necklace – Source: Unity Plaza Amphitheater and Urban Park – http://unityplazajax.com/
On November 19th Groundwork Jacksonville was launched locally led and supported by funding from the U.S.National Park Service, the city of Jacksonville and Wells Fargo Bank. Groundwork JAX first effort will be to Clean up and restore Central Park.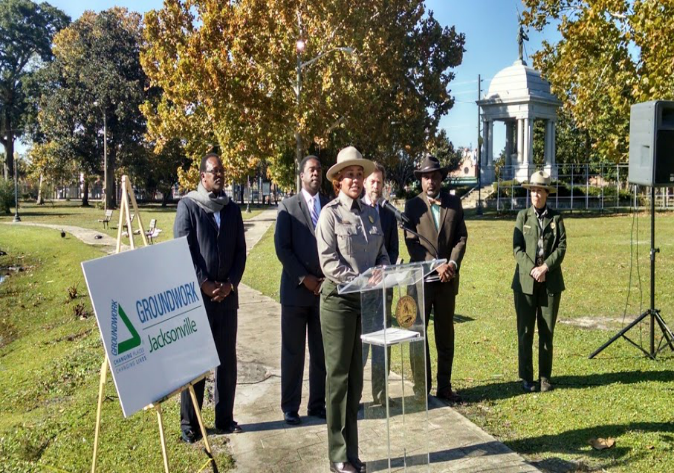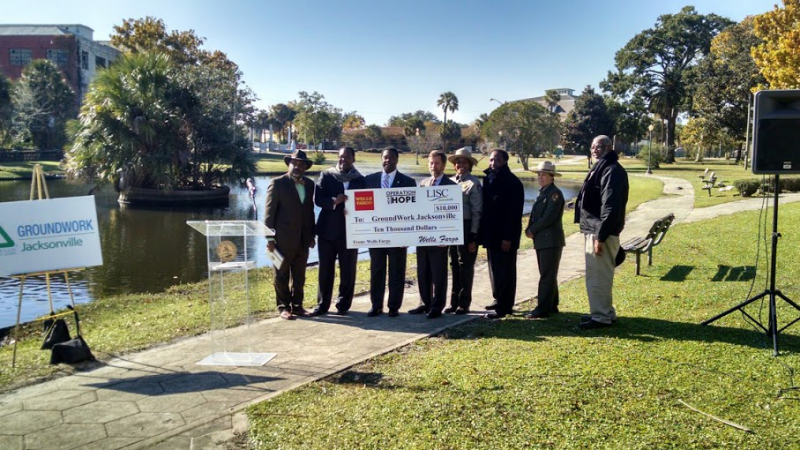 Photos by Jim Capraro
And there is so much more potential for real economic development results because a "Huge settlement could mean $80 million to fix contamination at old Talleyrand chemical site."
Stay tuned to this story.
These are just three of many stories I could tell, but I think they get the point across. Opportunities come from relationships. The denser the network of relationships the greater the possibility (some would say probability) that new opportunities will emerge.
CONCLUSION
We know that Collective Impact works. We know the community engagement is the right thing to do. This blog series posits that collective impact & community engagement, when done well, add great value to each other and increase the yield of positive (sometimes stunning) outcomes.
Do you have similar experiences? Or maybe dis-similar ones? Do questions come to mind, or salient points to raise? If so, please comment?
Posts in this Series
Read Part 1 – Engagement and Building Trust
Read Part 2 – The Problem with "Community Outreach"